The best fish tank decorations in our review are the Mini Carribean living reef, the Volcano Ornament kit, and the SpongeBob Pineapple House. Before getting into our top 5 review, it's important to mention what you should look for in an aquarium decoration:
How to decorate a fish tank
A fish tank can look really bland if you don't know how to decorate it tastefully. On the other hand, it's easy to go overboard with decorating. So in order to achieve aesthetic harmony, pay attention to both quality and quantity.
Certain aquarium decorations can be harmful to your fish, for example: sharp objects, metals, plastic, painted objects, etc. Paint may flake off, contaminate the water and in turn poison your fish. If you opt for aquarium decorations made out of wood, make sure that they're clean. You surely don't want to find any unpleasant surprises like creepy crawlies or the remnants of insects.
Less is more. For example, if your fish tank is already full of plants, only pick out an ornament or two. The focal point of every aquarium is always its plant life, so other fish tank decorations are unnecessary.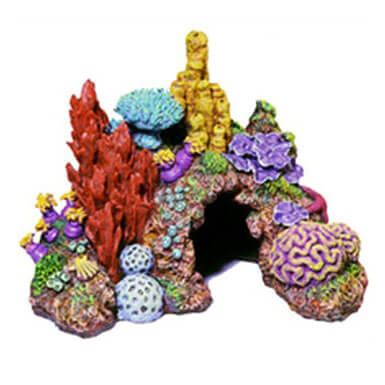 1. Blue Ribbon Exotic Environments Caribbean Living Reef 
Check price & availability on Amazon >>
Let's be honest, reef tanks are beautiful, however not everyone knows how to properly take care of one. If you find them too demanding but still like their aesthetic, why not incorporate a reef-like decoration into your tank? This little artificial reef is suitable for both saltwater and freshwater tanks. Its design is lifelike and the colors will enhance the beauty of your entire aquarium.
You should be able two find it in 2 sizes: mini (4 x 3.5 x 3.5 inches) and small (7.5 x 5.5  x 5.5 inches). Made from durable poly-resin, the one-piece construction is non-toxic and 100% safe for your fish, which is a huge benefit. Hand-painted and rich in both color and detail, this fish tank decoration is a cute addition to any tank. Its design also enables it to serve a useful toy – it has built-in holes, dividing the little reef into chambers. This is a super handy feature because your fish can take shelter and swim through it. They'll also love the reef because it can create air bubbles if you attach an air stone and tubing to it.

2. Uniclife Volcano Aquarium Ornament Kit 
Check price & availability on Amazon >>
If you like to experiment, then you'll surely like our #2 unique aquarium decoration. Easy to set up, the little volcano ornament is quirky and especially fitting if you want to decorate a child's tank, because it's really fun to watch.
In addition to the volcano, this fish tank decoration set also contains an air stone, an LED spotlight and a power adapter. You should be able to find the volcano in the following sizes: small (4.3 inches) and large (6 inches). Hand-painted and made from resin, it's not only safe for your fish, but also environmentally friendly.
After you set up all the provided equipment, the volcano creates the effect of an eruption – while the air stone will produce bubbles if you attach it to an air pump. The best part about this fish tank decoration is the red rotatable LED light as it creates a flowing lava effect.
Tip: Turn the tank's lights off for a dazzling light show!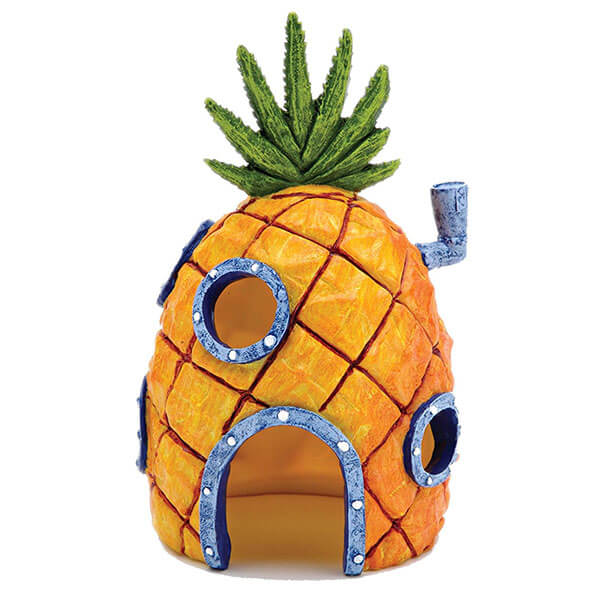 3. Penn Plax SpongeBob SquarePants Pineapple House
Check price & availability on Amazon >>
Let's be honest, who doesn't love SpongeBob SquarePants? This fish tank decoration is especially great if you have children and want to customize their tank.
Made from resin, the pineapple house measures 5.9 inches in height, so it should be able to fit in almost any tank. Its material is non-toxic, so it's safe for your tank and doesn't require much maintenance. When it comes to cleaning time, just wipe it with a clean cloth.
When submerged, the house won't float around due to its sturdy base. This is a very handy fish tank decoration for Bettas, as they tend to look for hiding places. The pineapple house has a few holes which your fish can swim through.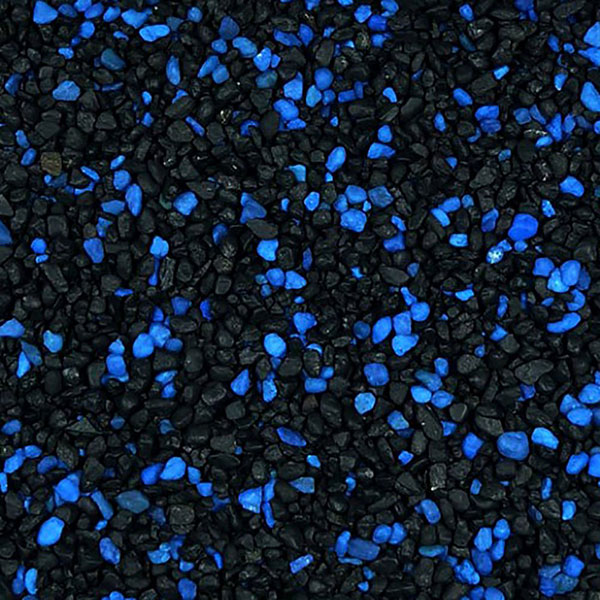 4. Glow-in-the-dark gravel and pebble substrate 
Check price & availability on Amazon >>
Our #4 pick has a cool design makes it look like you really tried without much effort. These glow-in-the-dark aquarium decoration stones are painted in black and blue and coated with acrylic, giving your tank a space-like effect. The best part is that they glow in the dark!
However, they especially look captivating under your tank's light, because of their fluorescence. Additionally, they're non-toxic and eco-friendly, which is very important for your fish. Suitable for both saltwater and freshwater fish tanks, the substrate comes in a 5-pound bag, with each pebble ranging from 0.12 to 0.25 inches.
(Every species of fish has specific needs. Therefore, we recommend you do your research before purchasing this substrate. It might not be the right type for your fish. For example, certain fish tend to make nests out of their tank's substrate – this specific kind isn't suitable for that. The black and blue pebbles also visually change the color of your aquarium, which may be problematic to certain types of fish.)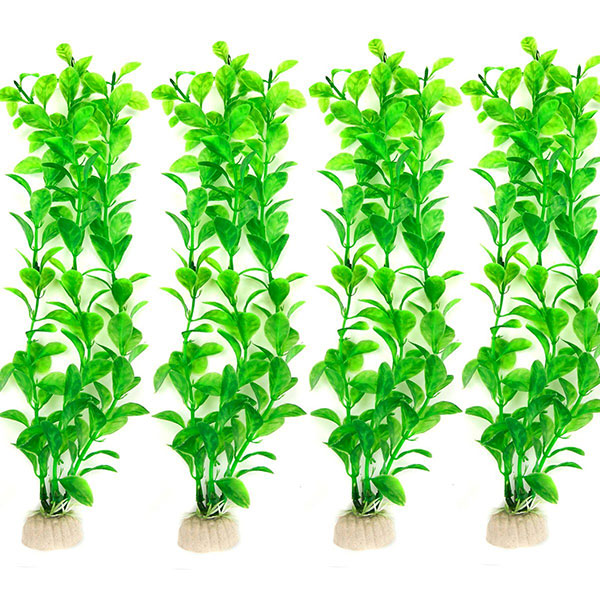 5. Comsun 4 Pack Artificial Aquarium Plants 
Check price & availability on Amazon >>
Last but not least, our #5 pick keeps it rather simple. You can never go wrong with artificial plants. Next to being a realistic fish tank decoration, they require zero maintenance, so if you don't like taking care of real plants, here's a solution. Another thing to keep in mind is that they're a great fish tank decoration for Bettas – the more plants you have, the more hiding spots they have.
This set comes with 4 plants made from safe plastic, which is completely safe for your fish. Each plant measures approximately between 10 to 10.6 inches in height, so make sure your tank can accommodate them if you decide you want to get them. If you look hard enough, you might be able to find different color versions of these plants, however we chose the standard green ones.
Each plant has a ceramic base which it's attached to and you can remove each plant itself from the base. Depending on your preferences, you can place the plants wherever you choose to in the tank. However, we recommend placing the taller plants in the back and the shorter ones in the front of your tank, as this creates the illusion of depth.