What is an aquarium chiller?
An aquarium chiller is an external device that lowers the water's temperature. Why is it necessary to control water temperature? All aquatic inhabitants are cold-blooded and temperature changes affect them. Even the smallest drop or rise in temperature can severely stress and harm your fish. A chiller contains refrigerants and helps cool the water when the room temperature is higher than the optimal aquarium temperature.
How does it work?
The cooling process is simple. Aquarium chillers don't directly create cold, instead they are just in charge of removing heat. The chiller's refrigerant circulates through the unit and and transports heat from the water, thus creating a cold environment.
Picking the best chiller for your tank
Prior to selecting the best aquarium chiller for you, pay attention to these parameters:
First things first, size matters. Your aquarium chiller should be just right – not too big and not too small.
Picking out a chiller also depends on your tank's water capacity. Most aquarium chillers' power is measured in HP (Horse Power) – naturally, larger tanks will require more powerful chillers. Always make sure to ask around and get the right chiller for your tanks size.
As chillers run on electricity, energy consumption is a very important, yet commonly overlooked. An ideal chiller should be economical and waste as little energy as possible.
With all of these specifications in mind, we tested out a number of saltwater aquarium chillers on the market. These 5 products we chose not only met our standards, but had the best price-performance ratio: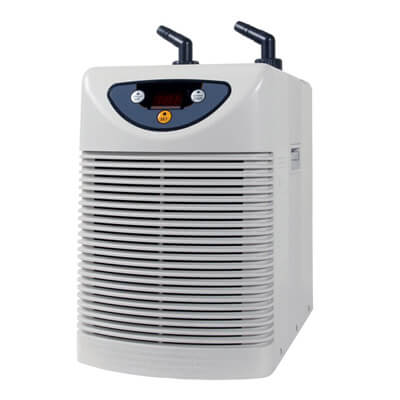 #1 The Active Aqua Chiller by Hydrofarm
Check price & availability on Amazon >>
This aquarium chiller has been a bestseller topping aquarium equipment lists because of multiple reasons.
Versatility – Made from anti-corrosive titanium, it is suitable for both freshwater and saltwater tanks.
Despite its refrigeration capacity, it is actually a subtle addition to your aquarium and won't take up much space.
Low noise levels. Although it looks powerful and intimidating, we found that this chiller is surprisingly silent when operating.
User-friendly and comes with an LCD display that is very easy to use.
Its eco-friendly concept – it is freon-free and uses the refrigerant R-134A to cool water. If a power surge occurs, this chiller will turn itself off automatically. (You don't need to tend to it like you normally would with any other aquarium equipment.)
This chiller can usually be found in multiple variations, covering aquariums from 13, all the way up to 250 gallons.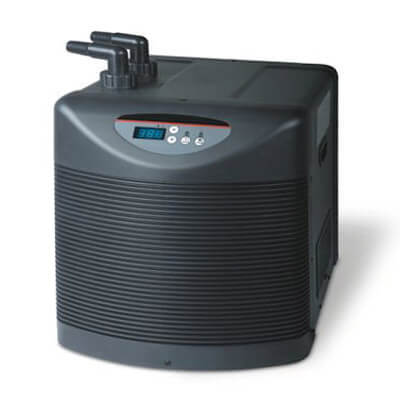 #2 Hamilton Technology Aqua Euro Max Aquarium Chiller
Check price & availability on Amazon >>
A solid choice if you own a particularly large aquarium. The Aqua Euro Max can be found in multiple variations suited for a large range of aquarium sizes – but the most impressive one is its 1HP variant – covering fish tanks up to 700 gallons of size.
Energy efficient – uses less energy compared to the majority of the products we tried out
Simple to use – comes with an LED temperature display and is simple to use.
An anti-freezing system that prevents the heat exchanger from freezing.
Quick and easy to clean.
We found that it runs quietly, and in cases when it does make noise, it's not too loud or disruptive.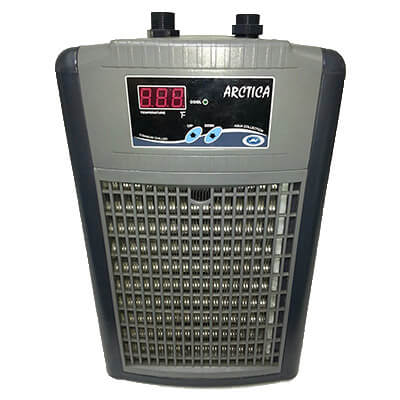 #3 The Aquarium Arctica Titanium Chiller by JBJ
Check price & availability on Amazon >>
Another aquarium chiller that customers worldwide adore and is almost always out of stock is this one. Although it is slightly more expensive than a standard fish tank chiller, it works flawlessly:
Durability is a big plus. We found it to be extremely resilient because of its corrosion resistant material, and we could not find a customer that had to replace any parts.
It uses the eco-friendly refrigerant R-134A, which is one of the best and safest options money can buy.
It is known for its stealthy working manner – what is unbelievable is how well it does its job, yet in silence.
We know how important energy saving is, so it is a no-brainer that this chiller uses the bare minimum.
It emits less heat than a regular chiller.
If you search well, you should be able to find the following horsepower variations:  1/3 HP, 1/5 HP, 1/10 HP, 1/15 HP.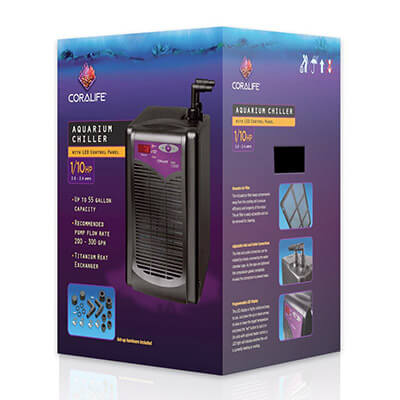 #4 The Energy Saver Aquarium Chiller by Coralife
Check price & availability on Amazon >>
Coralife is a known brand and the name is very often synonymous with quality aquarium supplies. While not our top pick, this aquarium chiller lives up to the reputation and is overall a solid choice.
It uses 1/10 HP to operate, and is perfect for aquariums up to 55 gallons of water.
It comes with a reusable air filter that you can remove manually, thus making it easier to clean.
We found the installation and setup process very easy and intuitive. Even if you do have trouble, this chiller comes with a step-by-step instruction manual.
We found this chiller to be fairly quiet compared to many similarly priced products; it's perfect for office spaces and children's rooms.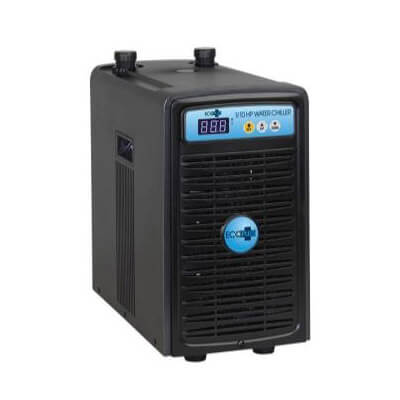 #5 The Ecoplus Aquarium Chiller
Check price & availability on Amazon >>
Although this aquarium chiller is #5 on our list, it still offers decent performance and a good price. Some notable features are:
Like all the other products mentioned above, we found it to be very easy to clean and maintain.
Although not as quiet as some of our other picks, we found its noise levels to be barely noticeable.
It is user-friendly with an LCD display that makes it easy to use.
You should be able to find the multiple horsepower variations, ranging from 0.1 HP to 0.5 HP. Its flow rate is suitable for water ranging from 66 to 317 gallons per hour.