The top performers in our aquarium glass cleaner review are the Jasonwell, Kedsum, and Flipper.

1. Jasonwell Magnetic Aquarium Glass Cleaner
Check price & availability on Amazon >> 
Algae buildup is an almost inevitable part of owning an aquarium. Sometimes no matter how hard you try to prevent it, it just keeps coming back. We found that this aquarium glass cleaner gets rid of the most stubborn algae and other dirt fairly quickly – and is also pretty fun to use.
The aquarium glass scrubber is made of plastic and can usually be found in multiple sizes. This is convenient, as you can select the right size according to your own aquarium. What impressed us the most about this cleaner is its efficiency. The secret to this lies in the magnetic force which handles the cleaning process.
The cleaner consists of two brushes. One cleans the outer glass and the other cleans the inner glass of your aquarium. When you move the exterior brush, due to the magnetic force, the inner one will follow. It's buoyant, so if it comes off in the water, the inner part will float upwards. The brushes are also lined with high-quality cleaning pads which do a great job at collecting dirt.
The only downside of this glass cleaner is that it's only suitable for glass – if you own an acrylic fish tank, we'd recommend our #3 choice instead.
While choosing which size to get, pay attention to the dimensions of your glass. Not every brush is suitable for every glass size. A large cleaner will generally help you cover more surface than a smaller one.

2. Kedsum Magnetic Aquarium Cleaner
Check price & availability on Amazon >> 
Just like our #1 pick, this magnetic aquarium cleaner works using similar technology.
This cleaner comes in the following colors and sizes: medium green, large green and large blue. Depending on the thickness of your glass, you should pick one of the three types.
The brush's handle provides a good grip and we found it very comfortable to use on saltwater and freshwater tanks.
The cleaning process itself is very easy. Similarly to any other magnetic cleaner, just place the main brush on the exterior glass of the aquarium. Place the secondary brush on the inner glass. It will follow the main brush via magnetic attraction and scrub the inner glass for you. So by moving the main brush, you'll kill two birds with one stone and in a few minutes, both sides of the glass will be crystal clean.
This magnetic aquarium cleaner is also buoyant, which is a great feature. Trying to twist your cleaner around the corner just for the inner part to detach and sink to the bottom is a defeating experience; if it happens with this cleaner, it will simply float to the top.
What also makes this aquarium glass cleaner one of our favorites is that the soft fabric its brushes are lined with won't scratch your glass.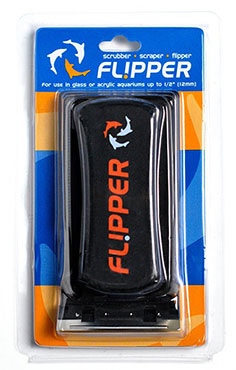 3. Flipper Aquarium Magnet Cleaner
Check price & availability on Amazon >> 
An excellent choice if you own an acrylic aquarium. The Flipper Aquarium Magnet Cleaner is suitable for both glass and acrylic. Depending on the thickness of your glass or acrylic, you can choose between the standard and max aquarium glass cleaner. The standard version is suitable for 1/4 to 1/2 inches, while the max version is suitable for 5/8 to 1 inch.
What we loved about it is its duality. You'll discover that it has two cleaning methods – it's not only a scrubber, but it also doubles as a scraper. Using these two methods in combination is super efficient at removing even the most stubborn algae.
Flipper's slim design allows it to reach areas in your aquarium that you couldn't otherwise, while the handle offers a good grip. This magnet aquarium cleaner is also buoyant – ensuring easy retrieval if the inner piece falls off.
Unlike our top two, this aquarium magnet cleaner uses blades instead of brushes to clean. Therefore, we recommend using less force to clean in order to prevent scratching. The blades are interchangeable and you can replace them whenever necessary.

4. Saim Magnetic Aquarium Cleaner
Check price & availability on Amazon >> 
At a glance you might think this is a stylish electric shaver – but it's actually a glass cleaner. Its unique design combined with its powerful cleaning abilities are the reason it got a spot on our list.
This magnetic aquarium cleaner can be found in multiple colors: black, blue, brown, dark red and orange. The Saim magnetic aquarium cleaner is suitable for glass or acrylic aquariums ranging from 0.20 to 0.79 inches in thickness. Just like our #3 pick, it doesn't just scrub the glass – but it also serves as a glass scraper. Two types of blades can be switched out for scraping; the plastic blade can be used on acrylic tanks, while the stainless steel blade is intended for glass tanks.
We also recommend not using much force while cleaning, so as not to scratch your glass.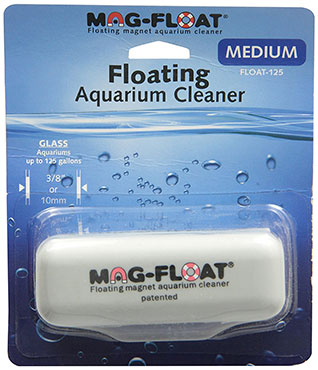 5. Gulfstream Tropical Mag-Float Floating Aquarium Glass Cleaner 
Check price & availability on Amazon >> 
Last but not least, we had to include the Mag-Float magnetic aquarium glass cleaner on our list.
You might be able to find this cleaner in all 3 sizes: small, medium and large. We tested out the smallest version for this review.
It's suitable for both freshwater and saltwater glass aquariums that hold up to 125 gallons. The simple design allows you to easily glide it over the glass. On the other hand, the inner-glass cleaning part is buoyant, so it will float if it comes off. Don't worry about scratches, because gravel and sand won't cling onto the brushes and as a result damage your glass. With this, you won't have an excuse to avoid cleaning your glass.