When do I need an aquarium glass scraper?
There's many reasons why a fish tank can get filthy. If your tank is exposed to direct sunlight – or you've made the mistake of keeping your aquarium lighting on for too long – algae can completely cover your glass and decor within days.
Even if your aquarium is in pristine condition, a glass scraper is a good tool to keep on hand, especially considering its low price.
With that said, certain types of dirt are best cleaned with an aquarium vacuum. An glass scraper won't provide much help with fish waste, debris, and other particles that tend to fall to the bottom of your tank.
Aquarium glass scrapers VS magnetic algae scrapers
While both products cost about the same and have a similar purpose, in some cases one may be better over the other. Magnetic algae scrapers are much more practical; you can clean your tank from the inside without getting your hands wet, or having to fiddle with the hood.
On the other hand, aquarium scrapers are usually much more versatile. It's literally impossible to rake dead plants, clean rocks or decor with a magnetic cleaner. While the cleaning process is a bit more tedious, it's also more thorough and pretty much the only way to help clean up heavy algae infestations.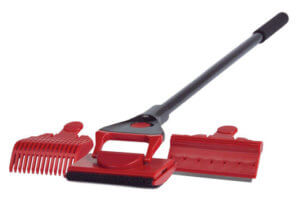 1. Koller Products TOM Aquarium Algae Scraper Multi-Tool
Check price & availability on Amazon >>
This aquarium algae scraper comes with 3 attachments that allow you to perform different types of cleaning.
Suitable for both freshwater and saltwater tanks, the Koller Products aquarium glass scraper consists of a 22-inch fiberglass handle and the following 3 cleaning attachments:
A rake
A blade
A cleaning pad
With the help of this 3-in-1 scraper, we found that the cleaning process was much more thorough; the rake is excellent if you want to pick up dead leaves or larger objects. It can even assist with general cleaning tasks, such as reaching fallen objects and scooping up larger forms of debris.
The blade helps scrape off algae buildup. It's made of stainless steel and won't damage your fish tank – as long as it's made out of glass. This algae scraper isn't suitable for acrylic tanks, so we'd advise against using it if you own an acrylic aquarium.
Finally, after using the blade to peel off even the most stubborn algae stains, use the cleaning pad as a finishing touch. Its gentle surface is designed to polish the glass which gets rid of micro-particles and in turn leaves the glass spotless.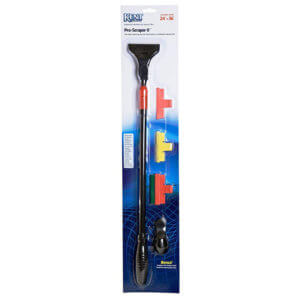 2. Kent Marine Pro-Scraper II
Check price & availability on Amazon >>
We recommend our #2 pick in cases where the algae buildup is that severe that it needs a rougher cleaning hand in order to come off. The Kent Marine pro-scraper II can be found in different sizes and we opted for the 24-36-inch version.
This aquarium algae scraper consists of a handle and 3 different types of blades. Each blade is replaceable, interchangeable and serves a different cleaning purpose. The cleaner's handle is made of fiberglass and isn't prone to corrosion, which we were pleased to discover. The handle's length can also be extended or adjusted to your liking if you twist it. This is a considerably convenient feature if you have a giant tank and need to clean spots that are hard to get to.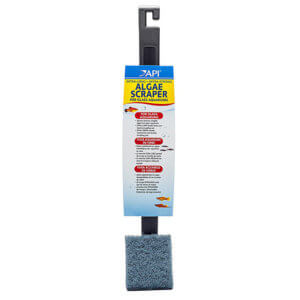 3. API Algae Scraper For Glass Aquariums 1-Count Container
Check price & availability on Amazon >>
API specializes in aquarium equipment and cleaning products for tanks of all sorts – freshwater, reef and saltwater.
Their aquarium glass scraper may look simple, but we found that it does a good job. It's only suitable for glass tanks, though. Don't use it if your tank is made of plastic or acrylic – or on any dry surfaces.
The aquarium algae scraper has a pretty long handle, which makes it easy to reach any spot in your aquarium. Another bonus is that you won't have to get your hands wet while cleaning. The handle's end has a scrubbing pad, which is what removes the algae stains from your glass, as well as invisible residue.
All in all, we found it a solid choice that efficiently gets rid of algae without the need for additional attachments or other accessories.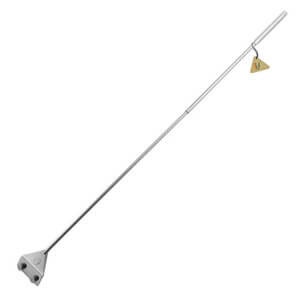 4. IDS Home Aquarium Glass Scraper
Check price & availability on Amazon >>
If you're the owner of a large-capacity freshwater or saltwater aquarium, our 4th aquarium glass scraper is a great tool. Although you can also find it as an 18-inch version, we opted for the 26-inch scraper.
In the packaging, you'll find an extension rod and an aquarium algae scraper with a blade. The handle is pretty long – enough for medium-sized and even some larger aquariums.
A huge advantage this algae scraper has over the rest in our review is due to its blade. Made from stainless steel, the blade is very sharp and flat, and owing to its design, cleaning corners and tiny angles is much easier and more precise. The blade is also easy to remove and replace if necessary.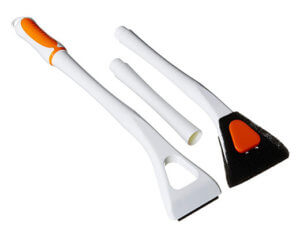 5. Penn Plax WZ20 Wizard Glass Aquarium Algae Scraper And Scrubber Combo Kit
Check price & availability on Amazon >>
Two cleaning methods are better than one, and our 5th pick is an example of that. The Penn Plax aquarium scrubber can also be turned into an algae scraper, leaving you with a crystal clear glass surface.
Its handle can expand to a good length of 27 inches – which is enough to keep your hands dry and reach those tough spots, even in a large aquarium. The end of the handle allows a scraper tool, as well as a scrubber tool, to be attached. The algae scraper attachment is sharp, precise and gets rid of heavy algae stains that can't come off just by scrubbing. It also does a great job at scratching off heavier residue like mineral deposits.
Using the scrubber in combination with the scraping tool polishes your glass and gets rid of water stains. Additionally, the scrubber also gets rid of fresh algae that has just started growing on your glass, which you can't see.