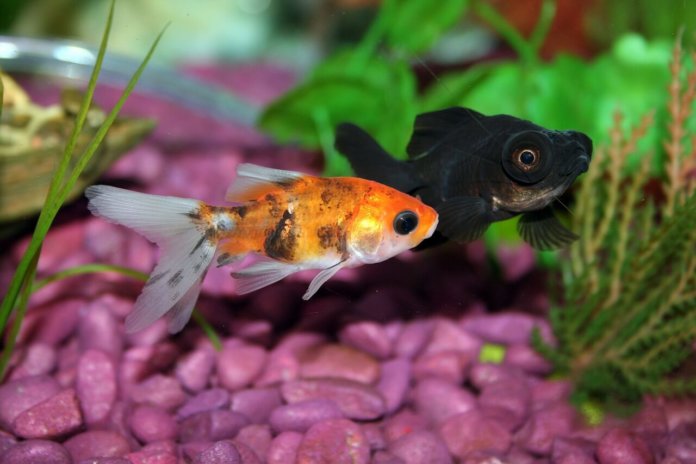 A fish tank coffee table can be a timeless, elegant centerpiece in any room. It's a great combination of aesthetics and functionality – and who doesn't love impressing their guests?
In this review, we'll reveal our top best fish tank coffee tables that are a great addition to any modern home.
#1 Midwest Tropical Fountain 25-Gallon Aqua Coffee Table
 Check price & availability on Amazon >>
This beautiful freshwater fish tank coffee table can hold up to 25 gallons of water and it's 36 inches wide. The beautiful, seamless design allows a great view from all sides – while still being easy to place and not taking up too much space.
The fish tank itself is a freshwater one. Its shape is that of a classic coffee table – square-shaped and translucent. The top glass is 3/8 inches thick – which is fairly solid and enough to have this little tank function as an actual table and not just a decoration.
The black, acrylic pedestal base hides a two-stage submersible filter pump that's included with the aquarium. In addition, the packaging also comes with an aerator and even decorative plants, which makes it a cool pick for beginners.
Regarding its upkeep, the fish tank coffee table is very easy to clean. After all, it's no different from a standard fish tank. A spritz of Windex, a dry cloth, some circular motions and you're good to go.
#2 Midwest Tropical Fountain Long Octagon Aqua 40-Gallon Coffee Table Aquarium
Check price & availability on Amazon >>
Yet another great pick from Midwest Tropical Fountain. If you're looking for something more eccentric than our #1 choice – this freshwater coffee table aquarium is a good choice. We found that it comes with all the quality and craftsmanship of our #1 choice – but just in an octagon shape.
It's made of acrylic, which is why it's very sturdy. With a capacity of 40 gallons, the versatility of this tank's shape makes it perfect for storage. For this reason, you can place magazines, coffee mugs, vases, etc. on the table itself without making it look overcrowded.
Also included with this fish tank coffee table are:
lighting
an extension cord
a two-stage submersible filter pump
decorative plants
 #3 Midwest Tropical Fountain 

Aqua End Table Aquarium 
Check price & availability on Amazon >>
If you'd like a smaller, less assuming aquarium coffee table – this is a solid choice. With a freshwater capacity of 15 gallons, it's a great addition to any room and has enough capacity to house some lively schooling fish.
Similar to our #1 best fish tank coffee table, the top glass is beveled and 3/8 inches – which is fairly thick and sturdy. The black acrylic pedestal base keeps the filter out of sight, leaving a clear, unobstructed view at all times.
To ensure a great view while you're enjoying your morning coffee, this little tank is illuminated from below.
All in all, we highly recommend getting this pick if you want a smaller version than our top two picks, as it will add elegance and class to your home.
 #4 The 

Aqua Table 680
Check price & availability on Amazon >>
This aquarium coffee table is sure to attract a lot of attention from your guests. Similar to our #2 pick, it also looks like an octagon. The table's top consists of beveled glass and its measurements are 3/8 inches. It can fit a lot of household coffee table accessories. Don't worry about space limitations, because it can hold a lot. However, we recommend keeping it clutter-free, because only then will you be able to fully enjoy the view of your beautiful fish.
Another thing it has in common with the other three products we reviewed is that it comes with blue gravel, which will provide you with a beautiful view.
Also included with the table are:
a two-stage submersible filter pump
decorative plants
lighting
food
a water conditioner
the AquaBlock algae inhibitor
To sum up, if you have children or are an aquarium enthusiast, do yourself a favor. By all means, welcome this unique fish tank coffee table into your home!