The top performers in our review are the RISEPRO aquarium thermometer, the LXSZRPH digital fish tank thermometer, and the Hallcrest A-1005 fish tank thermometer. Before getting into our top 5 products, it's important to explain how a fish tank thermometer works and why it's necessary:
Why buy a fish tank thermometer?
Temperature stability is key for the survival of your fish. In nature, temperature changes are usually slow, gradual and minor. In enclosed aquariums, these changes are much more sudden and can stress your fish out.
There are many reasons for sudden temperature changes in an aquarium; from malfunctioning equipment to a simple shift in climate. An aquarium thermometer is crucial as it allows you to quickly assess a problem and act before any real damage is done.
Fish tank thermometer types
There are a total of 3 common aquarium thermometer types you'll find, each with its own pros and cons.
Digital fish tank thermometer – its display stands either next to or on top of a fish tank. They usually come with a probe that goes inside the tank to measure the temperature. The display can show the temperature in either Celsius or Fahrenheit. Although it's very accurate, this type of thermometer isn't as cheap as others and usually requires batteries to operate.
Stick-on thermometers are usually placed on the outside glass of an aquarium. Despite them being very practical, in most cases they aren't very reliable. There are many factors that can cause inaccurate measurements, like sunlight or different air temperature.
Standing thermometer (floating thermometer) – this analog device works like a standard thermometer, using a red bar to display the temperature. It functions underwater, either floating inside of the tank, or stuck to its walls. It's usually made of glass, stainless steel or plastic, and doesn't require any batteries to run. It's often the cheapest fish tank thermometer and is fairly easy to replace if it breaks down.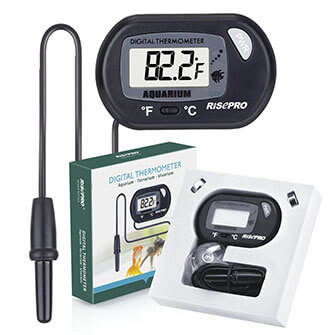 1. 

RISEPRO Digital Fish Tank Thermometer 
Check price & availability on Amazon >>
If you prefer digital aquarium thermometers to any other type, we highly recommend our #1 pick. It comes with all the features a digital thermometer should have – while being accurate, durable, and well-priced to boot.
It's suitable for both freshwater and saltwater tanks. Additionally, you can use it for terrariums and vivariums if you own pets like turtles, lizards or iguanas.
For such a versatile thermometer, we found it very easy to use. Put the temperature probe inside the water and the digital display above the tank (you mustn't submerge the display). It will quickly start to show a precise temperature reading in both Celsius and Fahrenheit.
The packaging includes:
2 suction cups
a spare battery
a 3-foot cable attached to the temperature probe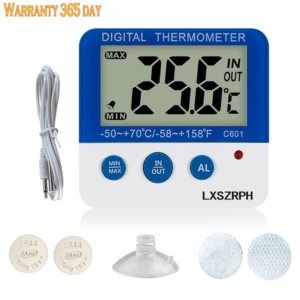 2.

LXSZRPH C601 LCD Digital Fish Tank Thermometer
Check price & availability on Amazon >>
Our #2 spot is taken by an accurate, well-designed digital fish tank thermometer that comes with a great alarm feature.
The LCD display is large and, similarly to the RISEPRO, it shows the temperature in both Celsius and Fahrenheit. A very handy aspect about this digital fish tank thermometer is its built-in alarm which will let you know if the temperature of your tank is off in comparison to the range that you've set. This is useful, especially if you often forget to check the display of your thermometer.
When it comes to placement, adjusting the thermometer is fairly simple. Since it comes with Velcro, you can use that to attach it to the outer aquarium glass. Along with the thermometer, in the packaging you'll also find:
A guide
Velcro
A suction cup
A spare battery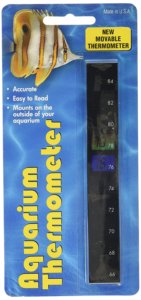 3. 

LCR Hallcrest A-1005 Liquid Crystal Vertical Aquarium Thermometer
Check price & availability on Amazon >>
Aquarium thermometer strips have their pros and cons. While they can be less accurate, they're incredibly easy to use and don't take up any space in your tank. The Hallcrest A-1005 is a great choice if you're specifically shopping for a thermometer strip. It's accurate, easy to read, and the adhesive on the back makes positioning it easy.
If necessary, you can also easily change the position of the thermometer depending on where you prefer to keep it. Using the Fahrenheit scale, when the green color lights up, it will show you the current temperature of your tank. The numbers are clearly displayed so you'll have a temperature reading within a matter of seconds.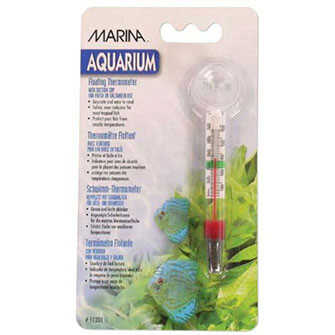 4. Marina Floating Fish Tank Thermometer
Check price & availability on Amazon >>
Marina is known for producing great quality aquarium equipment – and their floating fish tank thermometer is no different. If you'd like to avoid worrying about batteries, or just don't trust electronics enough with the safety of your fish, this is a great choice.
Unlike our top 3 picks, this thermometer is a floating one. We found it to be very compact, accurate and a great choice for smaller aquariums – especially fish bowls, where larger thermometers won't fit. Its safety zone indicator is a helpful visual pointer that allows you to quickly identify any problems at a glance. Suction cups are also provided to help secure it in place.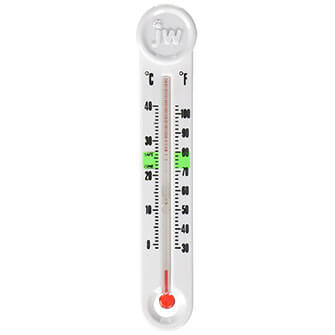 5. 

JW Pet Company Smart Temp Fish Tank Thermometer 
Check price & availability on Amazon >>
This simple fish tank thermometer comes in two versions: non-standing and standing and we tested out the non-standing version.
The outer magnet allows you to submerge it inside your tank and fasten it to the tank's glass. The magnet stands against the outer glass and ensures that the thermometer is in place. This is a rather clever approach, as suction cups can sometimes detach and cause your thermometer to fall off.
Similarly to Marina's thermometer, this product also has a green safety zone which represents the optimal temperature range. It's very easy to read and displays the temperature in both Celsius and Fahrenheit. All in all, it does a great job and comes with a great price to boot.