What is a nano reef tank?
A nano reef tank is a miniature reef within an aquarium, which is home to aquatic inhabitants such as corals, fish and invertebrates. A "nano" tank refers to a tank which size doesn't surpass 30 gallons. Even though it's not as big as your usual aquarium, it encompasses a lot of aquatic factors. It is an ideal choice if you don't want to take up a lot of space, but still want to enjoy a marine view.
Despite its small size, if you maintain it properly, your fish and corals can thrive in an ideal environment.
How to set up a nano reef tank
Most nano reefs come in kits which provide all the equipment necessary. However, some do not, and you will need the following equipment before you can get started:
Lighting – helps promote plant and coral growth and they cannot survive without proper lighting.
A filtration system – having a filter is inevitable for almost any tank. The water needs to pass through biological, mechanical and chemical filtration to be rid of harmful compounds which can harm your fish.
A protein skimmer – this device collects food and waste products from the water.
A water pump – this induces the flow of water within the tank. It is a crucial component for corals, because they get their nutrients through moving water.
A heater & thermometer – in order to control and keep track of your tank's temperature.
The best fish for a nano reef tank
Even though a nano reef tank has a limited amount of space, your options for choosing fish are not as limited. Before picking out different species of fish for your tank, make sure they are compatible with each other and not too aggressive. There are various species of fish to choose from, but we will mention the 5 most popular ones:
Royal Gramma – this stunning fish species has a royal connotation because of its beautiful purple and yellow scales. It lives in corals and rocks.
Ocellaris Clownfish – if you have seen Finding Nemo, then this species of fish must ring a bell. It is referred to as a "clownfish" because of its stripy orange and white scales.
Coral Beauty Angelfish – known for being very calm and unassertive, this species often takes shelter in corals. Its beautiful colors will make your tank look vibrant and captivating.
Blue/Green Chromis – these fish are extremely small and always stay the same size regardless of how much they eat. They have either blue or green scales. Both types from the same species. We recommend getting a school of these fish because they generally live in groups. Additionally, when together, multiple fish of this species will enhance the beauty of your tank with their beautiful colors.
Firefish – this species of fish has scales with a white to orange color gradient, hence the relation to fire. They are perfect for nano reef tanks because of their tiny size. This species is peaceful and tends to be quite timid.
Without further ado, here are our 5 favorite nano fish tanks :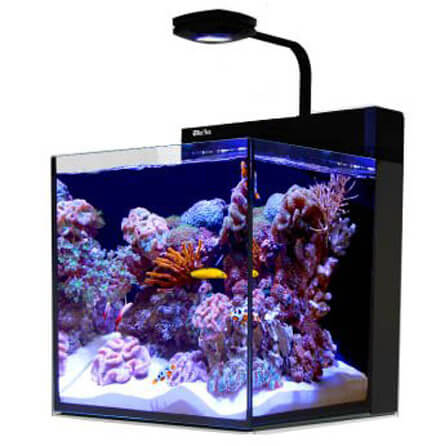 #1  The Max Nano Aquarium by Red Sea
Check price & availability on Amazon >>
This beautiful tank will bring a little slice of the ocean into your home. It will provide you with everything necessary to house a small reef.
The 20-gallon tank comes with a an LED lighting system that has 7 different colors to choose from. You control the lighting system through a built in Wi-Fi, which you can access via any iOs or Android device!
The tank's glass is 8 mm and it is reinforced, so safety is another essential factor you  will not have to worry about.
The tank has a built-in filtration system and an eco pump, which prevent waste from forming within the tank and on your reef. The eco pump boasts an amazing water flow of 240 gallons per hour!
All in all, the Nano Max Aquarium is an impressive, smart and functional addition to any home, work space or aquarium collection. Its beauty will not only modify your space, but it will also be the envy of your guests!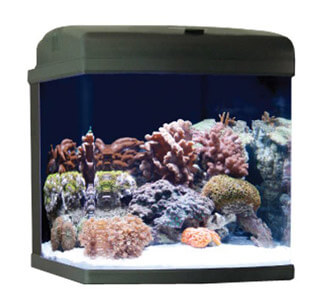 #2 The MT-602-LED Nano Cube by JBJ
Check price & availability on Amazon >>
Suitable for 28 gallons of water, this nano reef tank kit has an impressive LED lighting system. It consists of T5 lights which will increase the PAR rating of your water. They are completely safe, will not make your tank overheat and as a result, and will not harm your tank's inhabitants. This is because the heat is generated upwards and not inside of the water.
Another handy feature is the feeding lid. It allows a quick and efficient way to feed your fish in a matter of seconds. The included filtration system is impressive, coming with a 3-stage filter media basket, which allows comprehensive filtration.
Not only is the nano cube's design state of the art, but it is an economical product. We found that it consumes much less energy than similar products we tried out.
For such an innovative device, you'd expect to feel intimidated. This was not the case for us. We were very impressed by its elegant design, easy cleaning and environmentally friendly features.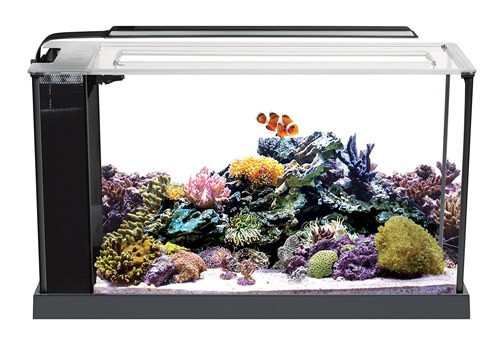 #3 The 10528A1 Evo "V" Marine Aquarium Kit by Fluval
Check price & availability on Amazon >>
The Fluval nano reef tank may seem tiny – but do not underestimate it. Although it only has a capacity of 5 gallons, it is a highly powerful device and nurturing saltwater home to fish and coral.
The tank is made of glass and its unique design hides its internal filtration system. The 3-stage system efficiently purifies the tank's water. Another great piece of equipment you will find within the kit is 11000 K LED lights. They will provide your corals with a safe and healthy environment to thrive in, because they help with growth.
If you are looking for something quality but compact, the Fluval nano reef tank is a solid choice. It can serve as a lovely centerpiece for even the dullest spaces. It will make a perfect housewarming gift or vibrant piece of office decor.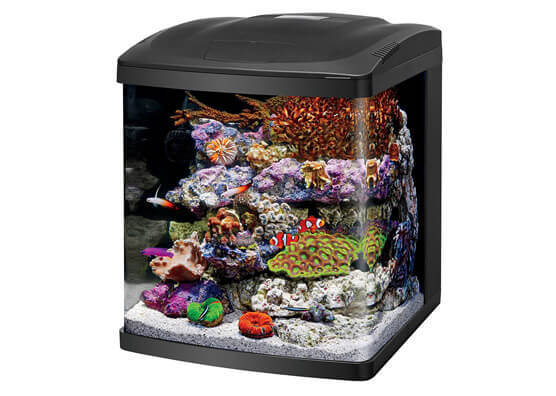 #4 The Fish Tank LED BioCube Aquarium Starter Kit by Coralife
Check price & availability on Amazon >>
This all in one nano reef tank kit comes in two sizes : 16 gallons and 32 gallons. Our personal favorite is the 16-gallon BioCube, although both come with lots of fun features.
It is suitable for both freshwater and saltwater. The hood provides you with blue and white LED lights, as well as color-enhancing LED lights. These promote coral and plant growth. They can simulate a 24-hour sun and moon cycle. The white lights are in charge of a daytime mode, while the blue lights enable a nighttime mode.
Another cool feature is that this tank comes with a built-in filtration system which is located in the back. You will also find a submersible pump in the kit.
We strongly recommend this BioCube aquarium starter kit if you are a beginner. It is fairly inexpensive, easy to maintain and a great introduction into the world of fishkeeping!
#5  The 10531A1 Sea EVO XII Aquarium Kit by Fluval
Check price & availability on Amazon >>
In comparison to our #3 pick, this tank has a similar design. A major difference is that this version holds up to 13.5 gallons of water, offering more than twice the space.
The filtration system is subtly concealed within the interior of the tank, which is always a plus. The tank's hood has a little sliding door which enables you to feed your fish swiftly and easily.
Upon opening the kit, you will find that it has all the necessary tank equipment you need :
14000 K LED lights – which come with two lighting options : daytime and nighttime. These enable your tank to duplicate natural environment changes.
A transformer
An activated carbon insert
A BioMax insert
A foam filter block
A circulation pump with an output nozzle.