The benefits of a bow front aquarium
The design of the bow front aquarium is its most notable feature and it's what separates it from your average fish tank. The curved shape allows a much fuller view of its interior. Additionally, the frontal curve of a bow front aquarium adds visual depth and a more aesthetic feel, while at the same time bringing you closer to your fish.
Bow front aquariums are also practical – your fish will have slightly more space owing to the protruding section. The only downside to bow front aquariums is that they're more difficult to manufacture – which makes them slightly more expensive than your average square tank.
Which bow front aquarium should I buy?
Bow front aquariums are made of either glass or acrylic and come in all shapes and sizes. Although maintenance is just as easy as with any other tank, the curved glass may be slightly more difficult to clean – especially if you're using a glass magnet.
When it comes to size, a bigger tank is always easier to maintain than a smaller one – especially if you're a beginner. We'd highly recommend a bow front aquarium between 40 and 80 gallons – this greatly expands your fish selection and makes the most out of a bow front's unique design.
Below is our review of our 5 favorite bow front aquariums: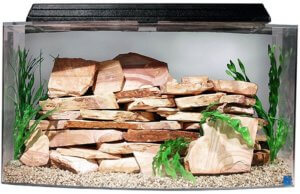 1. SeaClear 46-Gallon Bow Front Aquarium Combo Set
Check price & availability on Amazon >>
We've reviewed a lot of SeaClear's products by now and they're usually a safe pick, regardless of what you're buying. With that said, you need a lot more care and attention to detail when designing a tank compared to, let's say, a thermometer.
Thankfully, their 46-gallon bow front aquarium didn't disappoint. We found that it's sturdy, well-made and an ideal size for both beginners and experienced aquarists.
SeaClear's bow front aquarium combo set comes with the bare basics, leaving the choice of the filter, heater and decorations up to you.
A 46-gallon bow front aquarium
A 24-inch light fixture
A reflector
Although the combo doesn't come with much, one of its best features is its sturdy acrylic construction. Acrylic aquariums are often considered superior to glass – offering more clarity and durability. This is awinning combination, especially when paired with the unique bow front design.
All in all, we found this bow-front to be fairly priced compared to most competitors. The minimal design allows you to turn it into a great conversation piece with some plants and decor, and it's up to you whether you want to create a saltwater or freshwater tank out of it.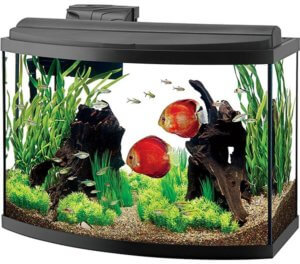 2. Aqueon Deluxe 36-Gallon LED Bow Front Aquarium Kit
Check price & availability on Amazon >>
If you're only looking for reputable brands, but want something just a bit smaller than 46 gallons, this bow front aquarium is a good buy. It's well-made and comes with almost everything you'll need to get started. To top it off, it's relatively cheap in comparison to many similar products out there.
At 36 gallons, it allows more than enough space to keep a number of different fish and get creative with driftwood, rocks, and plants.
Unlike our #1 pick, this tank is made of glass, so the front is crystal clear and wide enough to give a full view of what's going on inside. The hood is sturdy, compact and doesn't draw attention away from the tank itself.
This bow front aquarium kit comes with the following:
A 36-gallon aquarium and LED hood
A manual
A power filter + filter cartridge
A thermometer
Fish food
A water conditioner
A fish net
A submersible heater
When it comes to the extra equipment, the power filter and lighting are impressive. Usually, aquarium kits will throw in the cheapest equipment possible; while not the greatest, Aqueon has some great value products included in this kit. The filter runs in almost complete silence and the lighting will allow you to nurture some basic plants.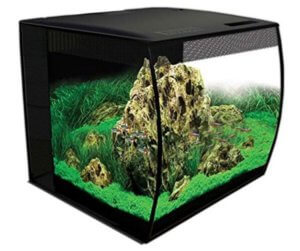 3. Fluval Flex 15-Gallon LED Bow Front Aquarium Kit
Check price & availability on Amazon >>
If 46 gallons and 36 gallons are too ambitions for you or you just don't have enough space for either – this bow front kit is a solid choice. It makes great use of space – you can mount it on a stand or use it as a desktop tank while still being able to keep a variety of fish.
Under the hood of this bow front kit, you'll find powerful 7500K LED lights, which come with a wide range of light settings to choose from. You can transform the entire interior of your aquarium solely based off its light source.
When it comes to filtration, Fluval knows what makes a great filter – after all, they've made one of the best aquarium filters on the market today. Although not nearly as powerful, the filter included with this bow front aquarium offers comprehensive 3-stage filtration, and is more than adequate for a 15-gallon tank.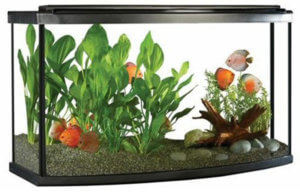 4. Fluval Premium 45-Gallon Bow Front Aquarium Kit
Check price & availability on Amazon >>
A quality, but somewhat pricey option. Although the freshwater tank itself is well-made, the real star that justifies its price is the equipment. In the kit, you'll find:
Powerful 8000K LED lighting
Fluval's C4 power filter – a great option which we've written about already
A submersible heater
Fish food
A thermometer
A care guide
A net
Fluval water treatments
The lighting is neatly tucked away and can be upgraded to two light strips, effectively doubling the output – this allows you to add some extremely demanding plants which you probably couldn't keep in your typical aquarium kit. Similarly to our #2 bow front aquarium, the LED lighting is fully adjustable and allows for some fun color combinations.
The filter is none other than Fluval's C4 power filter – arguably one of the better power filters on the market – with comprehensive 5-stage filtration and a great flow. All the media needed for the filter is also included, which is a big plus.
All things considered, despite it not being cheap, this bow front aquarium is well worth the price. There's basically zero shopping required once you've bought it.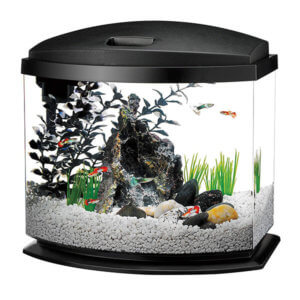 5. Aqueon MiniBow LED 5-Gallon Desktop Aquarium Kit
Check price & availability on Amazon >>
Last but not least is our tiniest choice. Aqueon's MiniBow LED desktop aquarium is perfect if you have limited space and just like the aesthetic of a smaller tank. You should be able to find the following tank versions: 1, 1.6, 2.5, 3 and 5-gallon – we tried out the 5-gallon version.
Its simplicity makes it a perfect addition for children's rooms – although you won't be able to keep a lot of demanding fish, its capacity of 5 gallons is more than enough for a Betta or some guppies.
The aquarium's lid has a hole for quicker feeding and with the kit, you'll also get a decent filter, a cartridge and water treatments, as well as food. Although lighting unfortunately isn't included in the kit, the hood can support LED lights, which is handy if you want to grow some plants.